Disclaimer: As stated on my twitter, Instagram and now on this video, I was not a part of the new concealer or setting powder shades launched by Too Faced. My only collaboration was the 9 extended Shades for the Born This Way Foundations.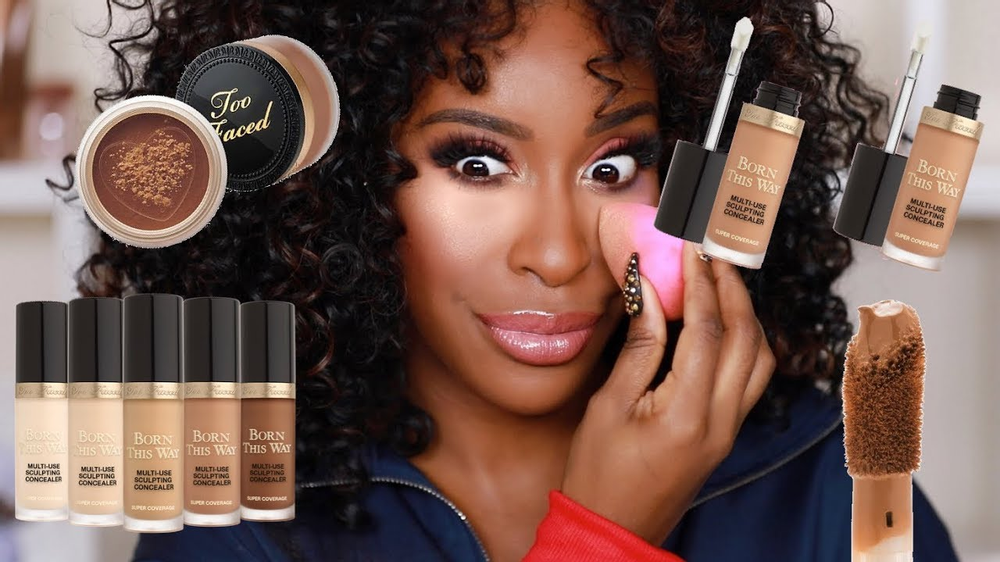 Now, with that being said, I am here for The Born This Way Concealer and as you will see in the review, it's not my favorite but it's up there and I think of price point per ounce make it worth getting.
I did do a time comparison on this so 4 hours later you can see the final results. Stay tuned until the end of the video to see my final thoughts.
Here's a step by step of my review:
I started off with Primer, but not just any primer girl, we went in with the Hangover Replenishing Face Primer. This is one of the better primers to used with the Born This Way Foundation and I've found it reduces oily skin significantly.
Then I get to the Born This Way Super Coverage Multi-use Concealers. I review the ingredients in the concealer and go over the formula in comparison to their previous concealer.
Next I went with Chestnut but I did swatch side by side in the deeper tones.
The next thing I did got a little grey (literally) where I decided to try the Born This Way in Translucent Medium setting powder by Too Faced. All was going well until I decided to get fancy and blend product. You'll have to watch the video, I don't want to relieve this horrific experience.
In a nutshell I concluded the following:
1) The price of the concealer is a banger, at $29 for a half ounce that makes this very promising.
2) The applicator for the concealer does its job and it does it well.
3) This may be a long lasting primer that gives significant coverage.
I hope you enjoy the video!
I know a lot of you are going out and purchasing these new shades and I would love to hear your response.
XO
Jackie